Improve Messaging
Automate. Show. Speed Up.
Why do we choose to automate assigning?
Conventional messaging systems based on Email (e.g. Outlook, Apple Mail) or Instant Messaging (e.g. Microsoft Teams) allow the association of messages by manually created rules
However, most people don't realize the effect of changing these settings and very few people know where to set these rules inside the messaging software.
We believe that we have a smarter assignment system that automatically makes sensible connections from the beginning, while new assignments can be created with one click and the effects can be seen directly.

Connect easily emails, chats, team chats, etc.. to your topics and create a new level of overview

Yesterday you configured rules to keep things under control. Tomorrow the system learns your mappings and organises your communication.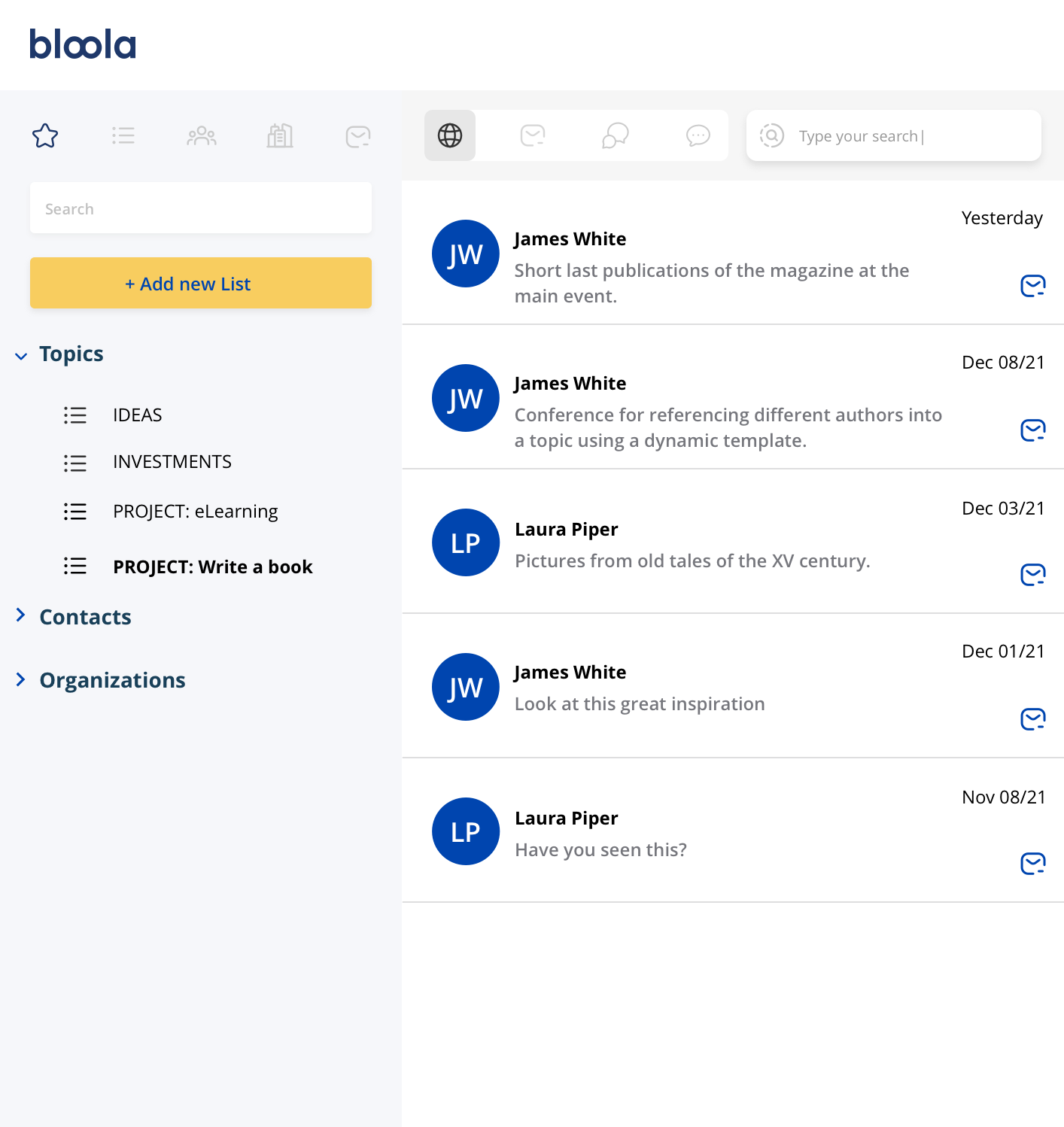 You decide how to structure your life, bloola covers it and automates it.
Why do we choose to show message status?
Most programs present incoming messages in a list view, that does not allow us to see the correlations of the messages nor the processing status of each of them.
By defining a process structure for message status, these can be shown automatically.
This way, messages can fulfill their purpose and go from saying to doing – in one smooth action.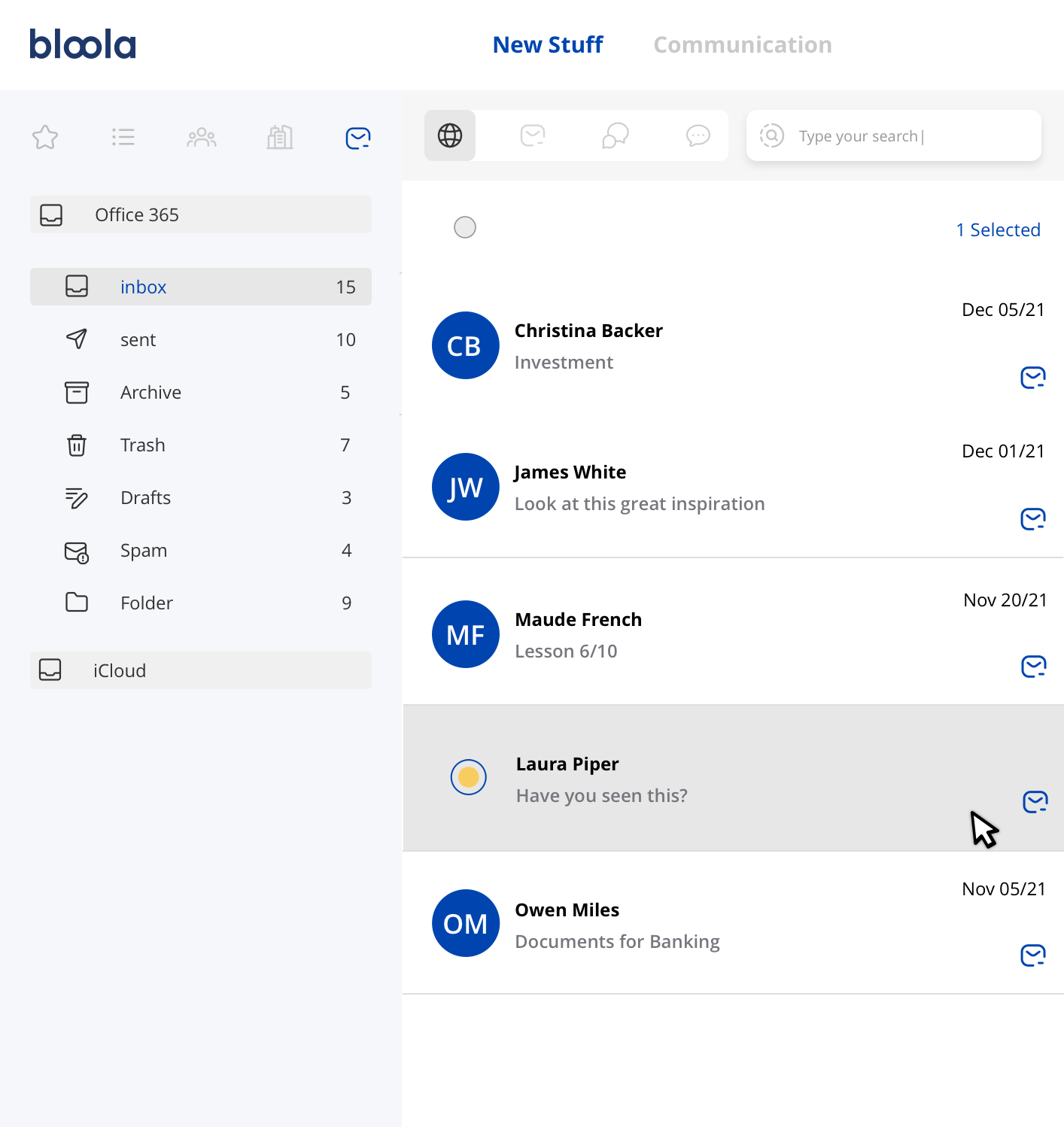 All new stuff - means messages from mail and chat later also tasks, files, etc. arrive in this view and we think this is the right plaxce to decide how to react. Sort, push, remind and many more actions let easily decide how to go forward.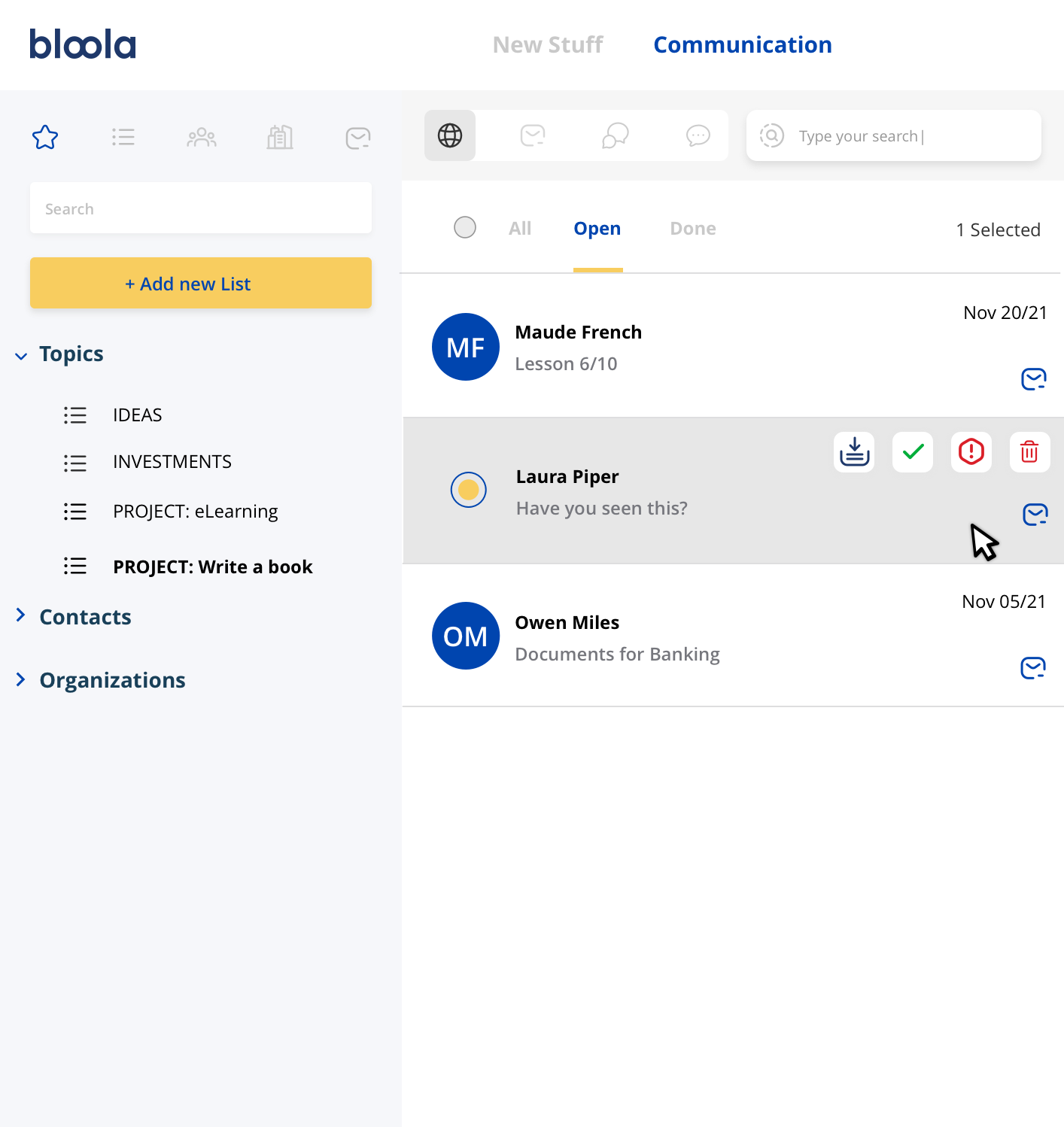 Easily work on open messages - choose the right topic - and then decide the next steps. Remind, follow-up, reply or convert into tasks by placing them on the right to-do list.

If messages are processed, push them to done. If new messages arrives or updates will happen they will automatically appear on new stuff under the right topic. Managing your communication couldn't be easier.
Why do we choose to speed up finding?
Searching through messages using only keywords is complicated. Remembering and guessing the right terms is difficult and so the amount of search results provided is far too large to find the right result.
Before entering the search, a systematic pre-filtering facilitates the search process – the possible search results are reduced to only a handful.
These filters can be set for known purposes, such as communication on relevant topics, a specific person or an organization.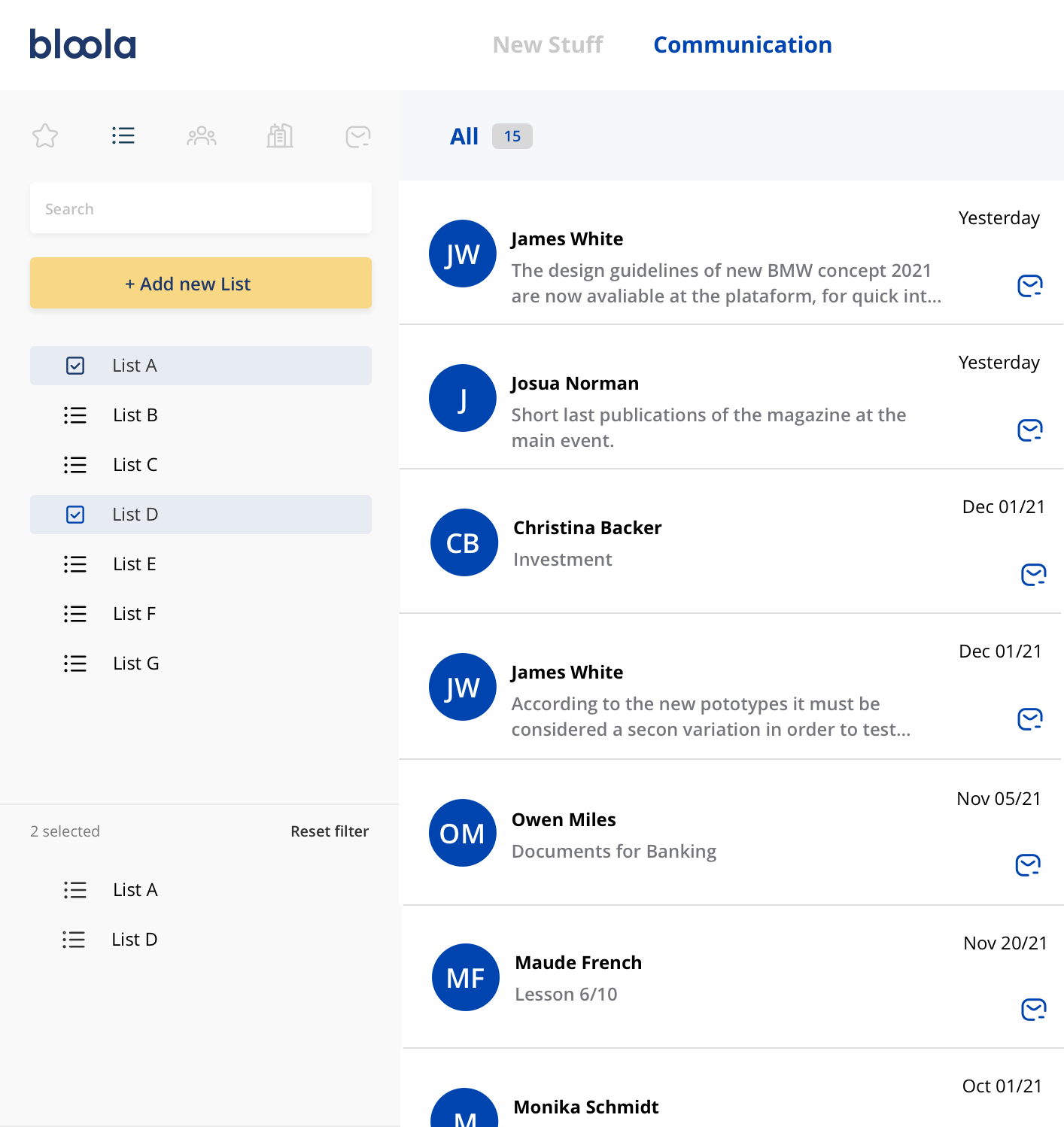 We let you create your structure. Use lists for topics, projects, follow-up or whatever you want. It is easier to find messages by topics, people and organisations like never before.
Choose one or several lists to find your messages.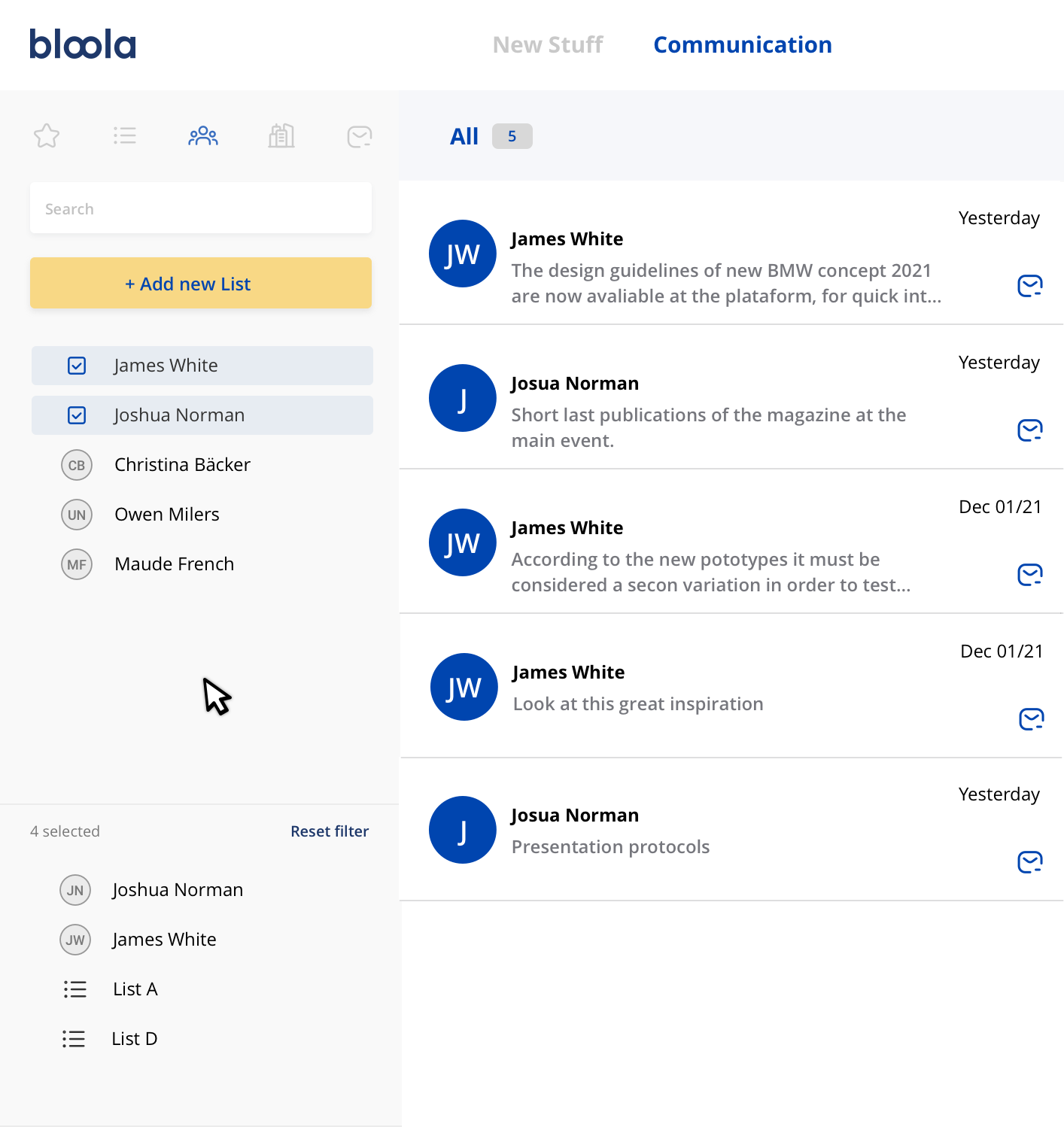 You exactly know that 2 persons were part of a conversation but you didn't know where? No problem with bloola - choose the related contacts and see all messages with both in it.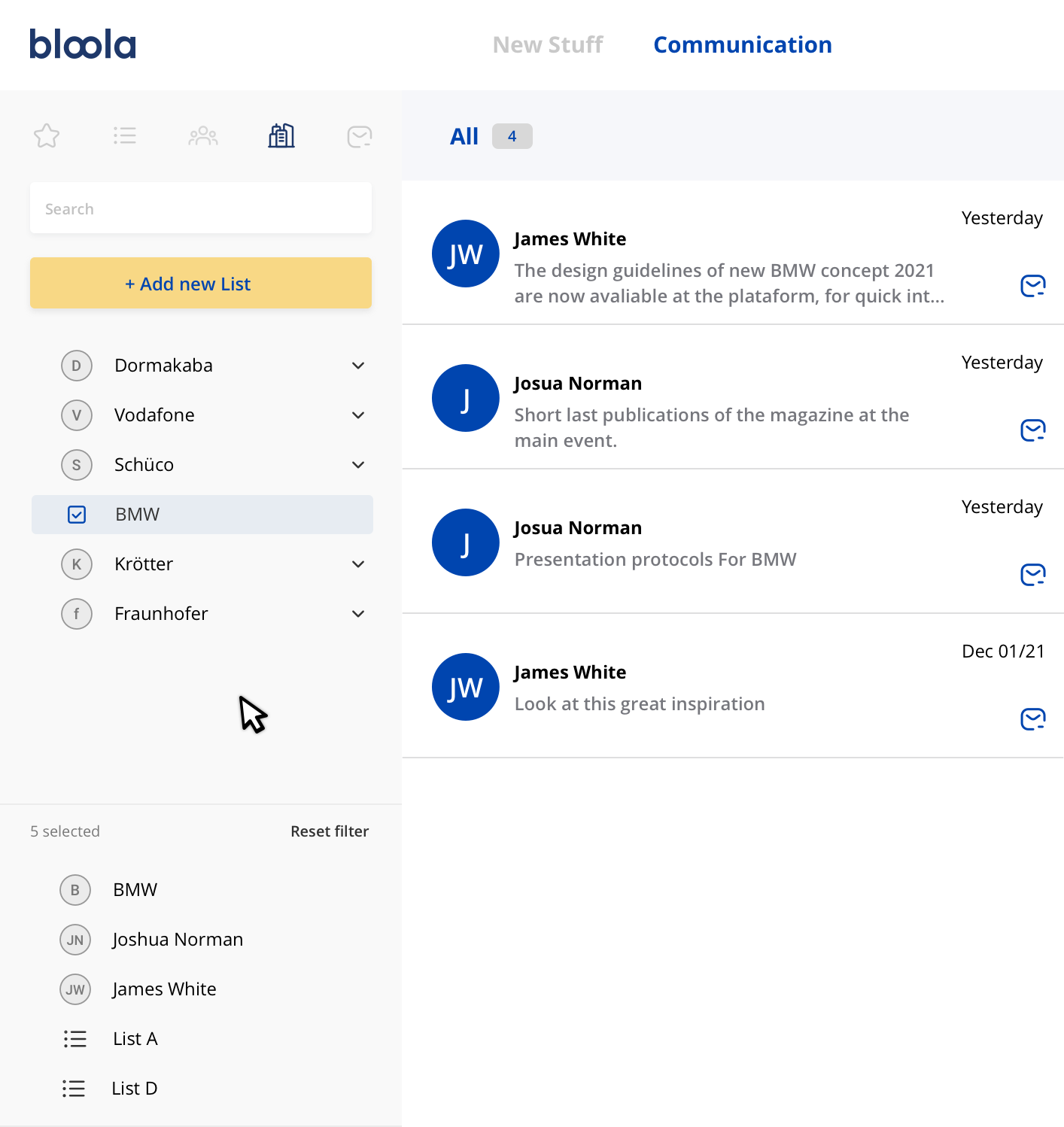 You know that a messages was received from a specific company or organisation but you are not sure from which person? No problem by choosing the relevant organisation. Combine it with other filter elements like contacts or lists to be successful.